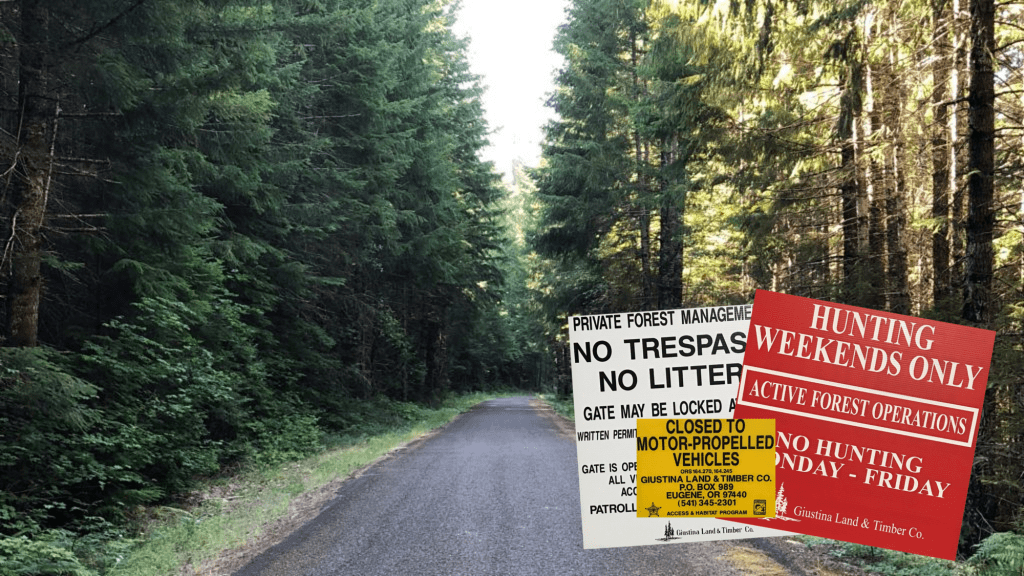 Private Working Forests
Our lands are private working forests and for most of the year are closed to public access.  We coordinate with the Oregon Department of Fish & Wildlife to allow public access on some of our lands during Oregon's general rifle deer and elk hunting season. Our lands are not open to public access during archery season or for controlled hunts. Lands are patrolled by law enforcement year-round. In management areas that are open to the public (defined below), the following rules apply:
Obey all posted signs. Where no sign is posted, no public access is allowed.
Observe all Oregon Department of Fish & Wildlife Hunting and Fishing Regulations, including Travel Management Areas (TMA).
Do not block the gates. Vehicles blocking gates will be towed at owner's expense.
Do not cut firewood, or remove any other forest products without a written permit.  Written permits must be present when removing products.
Do not damage trees, roads, gates, or equipment.
No camping is allowed.
No open flames or campfires.
No target shooting is allowed.
No ATV's, motorcycles, or electric bikes are allowed (no motorized use).
When open for vehicle use, motorized use is restricted to gravel roads.  Some gravel roads may be restricted by Travel Management Area (TMA) rules during hunting season – know before you go.
Keep an eye out—report vandalism, garbage dumping, and other offenses.
We try to keep gates at access points to our timberlands posted with current information.  Access and road restrictions are subject to change without notice.  To learn more about Private Land Closures in Oregon, visit Oregon Forest & Industries Council Private Landowner Closure Information.
You may observe Giustina Land & Timber Co. employees on our property; recreational access is granted as a benefit of employment.
Questions regarding specific gates and hunting access can be directed to: hunting@giustinaland.com
Management Block

Vehicle Use

     Walk-in

         Comments

God's Valley

Closed

        Closed to public entry at this time – Fire Season

High Pass/Long Tom

Closed

Closed

        Closed to public entry at this time – Fire Season

Lost Creek

Closed

        Closed to public entry at this time – Fire Season

Marcola

Closed

Closed

       

Closed to public entry at this time – Fire Season

McKenzie

Closed

        Closed to public entry at this time – Fire Season

Rice/Scott's Valley & Glide

Closed

        Closed to public entry at this time – Fire Season

Sand Creek

Closed

        Closed to public entry at this time – Fire Season

Santiam (All Linn Co. Lands)

Closed

        Closed to public entry at this time – Fire Season

West Lane  

Closed

        Closed to public entry at this time – Fire Season

Willamina

Closed

Closed

       

Closed to public entry at this time – Fire Season

Winberry/School Creek

Closed

Closed

       

Closed to public entry at this time – Fire Season